X
Looks like you are a new visitor to this site. Hello!
Welcome to Hope For Film! Come participate in the discussion, and I encourage you to enter your email address in the sidebar and subscribe. It's free! And easy! If you have any suggestions on how to improve this website or suggestions for topics please don't hesitate to write in to any of the blogs.
You can also follow me on Twitter or Facebook.
(If you keep getting this message, you probably have cookies turned off.)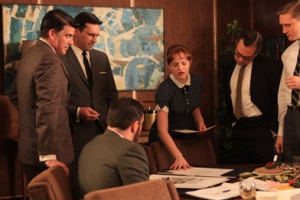 In the second episode of Season One of Mad Men, one of the copywriters is showing the agency to a new secretary, trying to impress her: "You know . . . there are women copywriters!" he claims. – "Good ones?" – "Sure," he says. "I mean, you can always tell when a woman is writing copy. But sometimes she may be the right man for the job, you know?" Not much has changed since the days depicted in Mad Men. Or at least, not enough. This is still a man's world – and sometimes a woman will get a writing job not because she is "the right man for the job" but because she is a woman. [...]
Check it out:
"Ted Hope's new book "Hope for Film" is part memoir, part manual, part manifesto"Tweet
Don't get me wrong, it is still hard. How do you know what festival to play when?  That remains to be answered, but just knowing what festivals are approaching is great gift — and now you can quite easily.
Care for a little sexploitation anyone?
Check it out! As the site says:
"From BOND/360 labs, CinePacks brings together the best of independent cinema in "pay what you want" digital bundles, allowing fans to discover great films that share a common theme. Each curated collection allows audiences to experience films that explore the communities, people, and stories tapped into the zeitgeist of yesterday and today."
Tweet[…]
This is awesome.  POV's "For Filmmakers" calendar includes funding deadlines, calls for entries, festivals and other documentary events.
I am a judge for Viewster's Online Film Festival. It is so great to give money to filmmakers.  $100,000.00!!!!  This installment was "It's Complicated" and it takes a global tour through relationships.
The thing I found most striking was the exposure to filmmakers from around the world.  Sitting hear in America, I mostly see local work, and you become […]
We move things ahead by sharing what know and learn.  That has been the impetus behind this blog and many others.  The same can be said about case studies. Lately it has also become the impetus behind handbooks and the like.  Here's a few you must download and read:
I was definitely "on message" with this interview for this really beautiful Danish magazine The CIFF Gazette.  I think I capture what will be the next chapter in the future of film pretty f'n well, if I do say so myself.