X
Looks like you are a new visitor to this site. Hello!
Welcome to Hope For Film! Come participate in the discussion, and I encourage you to enter your email address in the sidebar and subscribe. It's free! And easy! If you have any suggestions on how to improve this website or suggestions for topics please don't hesitate to write in to any of the blogs.
You can also follow me on Twitter or Facebook.
(If you keep getting this message, you probably have cookies turned off.)
In addition to the learning that the Presale Market is Alive and Well at AFM and observing 4 industry trends from AFM 2014, I gained some practical knowledge that all producers should know.  While there's plenty more you will need to know to attend your first AFM, here are some things that really popped out this year.
1.  While more filmmakers are exhibiting at the show, Sales Agents are still important partners.
This year AFM opened lower cost booths on the third floor to producers to have a base of operations to plan from while selling their products.  The price was 3900 and included 3 badges.  It really wasn't all that different than a three person team attending the market on full week badges.  Many of these filmmakers also screened their projects on Monday, in hope of attaching a sales agent and US Distributor.
According to Jonathan Wolf, The purpose of these booths was not for the producers to sell the film directly themselves. most filmmakers don't understand the intricacies of international sales or what each film really should sell for internationally.  While more filmmakers are becoming exhibitors, the intent is different than the sales agents who pay for the suites.
2. In order to Succeed at AFM, you've got to come back every year.
In a press release, the AFM noted that 90% of the buying companies attending AFM were returning to the market.  You can't build a new network or a new chain of theaters in only a year, so the numbers of buyers doesn't change dramatically.  It's generally the same people who come out year after year.  Getting traditional, non-DIY distribution is heavily relationship based.  If you want to go that route, then AFM is a good place to start establishing those relationships. 
Speaking from personal experience, if you can establish a relationship with reputable sales agents and distributors then getting your films out there will become far easier.  If sales agents and distributors like you, then not only are they more likely to take a risk on a project, but even if your current project isn't for them then most of them won't mind you bringing them future work.  Having those relationships is really make or break in this business.
3. The pool is now open only to Badge Holders, and it's going to stay that way.
This was the first year the pool was open exclusively to badge holders.
According to Mr. Wolf, this is going to be a permanent change.  "The feedback we got was 99% positive."  Adding that many people would to come down to the pool and just stay there for hours, making it quite difficult for exhibitors and buyers to get a table for a meeting.
He later added that, "The only complaint we've really had is that some local people come to the show for meetings and don't get badges, and thus have no place to meet."  Luckily, IndyOh! Opened across the street from the Loews, and could rise to fill that gap if it's as accessible next year as it was this year.
From personal experience, it was nice to not have the same level of competition to grab a table for a poolside meeting.  I made several valuable connections while sitting at the tables, and the connections made seemed more valuable than they have been in years past.   It also drastically cut down on the number of disreputable characters and shady dealings by the pool.
If you want more practical tips on how to do establish those relationships, you should check out my book!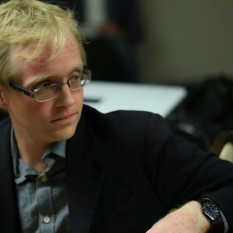 Ben is the Author of The Guerrilla Rep: American Film Market Distribution Success on No Budget, Founder and CEO of Guerrilla Rep Media, and Founder of Producer Foundry.  Formerly, Ben was the Chapter Leader for the Institute for Ineternational Film Finance for San Francisco, Vancouver, New York, and Los Angeles and screened business plans for the Film Angels. Follow Ben on Twitter at @TheGuerrillaRep.
Less than 30% of all speaking characters in the 100 top-grossing films are female. "If filmmakers just added five female speaking characters to their current slate of projects (without taking away or changing any of the male characters) and repeated the process for four years, we would be at parity."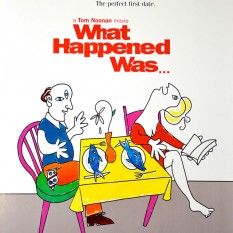 Recently Jon Brooks at KQED wrote up a very nice piece on Tom Noonan's WHAT HAPPENED WAS (1994). That film won multiple awards at Sundance but barely go seen.  Unfortunately it does not sleep alone in my bed of barely seen almost-masterpieces.  As strong as my track record may be, it still holds some flops, misfires, and damn bad luck […]
Yup.  I will tell some great tales, read a few passages, answer a lot of questions, and distribute some free gifts.  All this and more this Friday evening.  At Book Soup. 7p.  8818 Sunset Blvd.  See you there!
I have great HOPE for what is happening right now in the film business.  I recently wrote about it for The Hollywood Reporter. Check it out here.
It's Buster's birthday.  Celebrate it with this: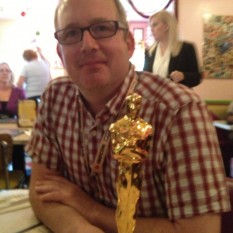 Bet you didn't know I was responsible for this summer's biggest box office hit. Yup. Guardians Of The Galaxy: I am responsible for that.
And if you were in Zurich for their film festival, you might have gotten some excellent advice on how to make award winning films.  It may have seemed like Nicholas Chartier was giving the speech, but […]
Did you miss the excerpt of my book "Hope For Film" that Women And Hollywood ran the other week? It's not too late.